Arse v Spurs
Another derby at the closing stage of the season. Last season the Arsescum won the title at our place, and this time we are looking to end their title hunt at their place.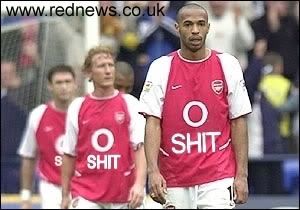 We have not lost to any top teams (Chelsea, Man U, Everton, Liverpool, Newcastle) away this season and if this trend continues tonight, the title will be Chelsea's. The best formation is Robinson, Kelly, King, Dawson, Edman, Reid, Davies, Davis, Brown, Defoe, Kanoute. I rate Brown over Carrick this season. Defoe scored a cracker against Arse at home and hopefully he will do so again tonite.

Talking about Carrick, he has the ability and physique to match Gerrard. But he lacks all the determination and drive to progress further. Of course he is still young and still not yet the finished article, but he must find another gear in the summer or else he will no more than a squad player rather than a midfield dynamo for us. Please try to score a goal too...

I will have Spurs (+1 handicap) and I am also tempted to put some $ on 1-1 or 2-2 draw.

COME ON YOU SPURS!